Biciclet(r)a: Literary Biking Madrid
Klassifikation | Classification:
Jahr der Erstveröffentlichung | Year of original publication:
Sprache(n) | Language(s):
Screenshots: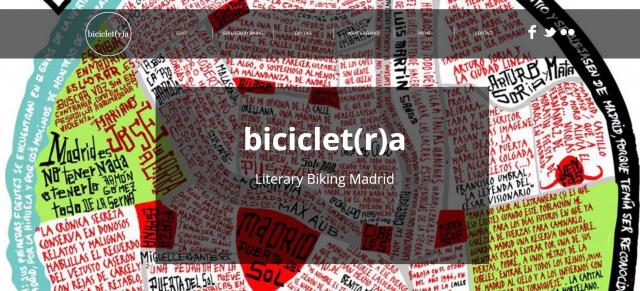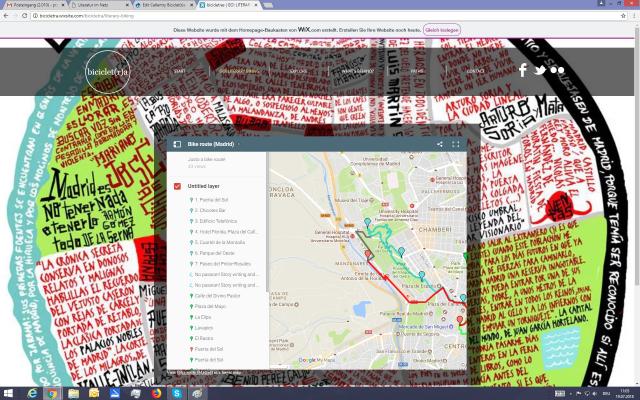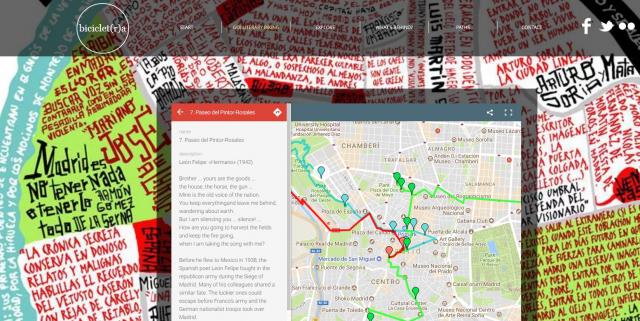 Englische Beschreibung | English description:
Project description: There are many ways to explore a city. Bicicletra offers a literary experience of Madrid which goes beyond touristic visits of central places. It tells stories of the city's literary history and present, guided by individual impressions of the urban and your path choices. Use the map to explore literary spots: you will find a variety of texts, pictures, photos and films. Literature appears to be everywhere. Bicicletra does not want to judge WHAT is literature. It points out possibilities of WHERE it could be. It stresses the individual perception of literature and space. Literature is always related to space and space can be influenced by literature and writers. It adds a fourth fictional dimension to space: your projections and imaginations.​ Topically Bicicletra focuses on the intersection of political crisis and literary creativity. It embraces three epochs of political movements that have shaped or still shape the urban space of madrid: Indignados, Spaniand La Movida Madrilena. Poetry, street art, literary excerpts and urban artefacts manifest the Zeitgeist and historical upheavals.