Computer-Lyrik. Poesie aus dem Elektronenrechner
Klassifikation | Classification:
Jahr der Erstveröffentlichung | Year of original publication:
Sprache(n) | Language(s):
Veröffentlichungsort | Place of publication:
Screenshots: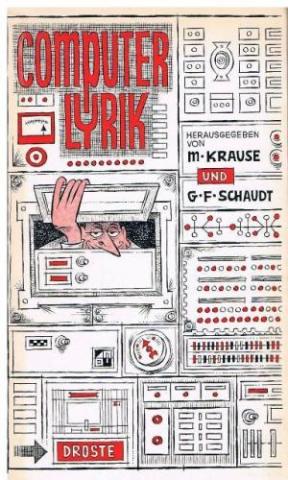 Deutsche Beschreibung | German description:
Im Gegensatz zu anderen computergenerierten Gedichten, die seit den 50er Jahren programmiert wurden, so wie beispielsweise Lutz' "Stochastische Texte" (1959) und Gerhard Stickels "Monte-Carlo-Texte" (1966), haben Manfred Krause und Götz Friedemann Schaudt in den von ihnen auf einer Z23 programmierten Computerlyrik Reim- und Metrumregeln, aber auch syntaktische Regeln hinzugefügt. Der im Programm enthaltene Wortschatz  stammt u. a. aus Gedichten von Goethe, Schiller und Claudius. Die computergenerierten Gedichte haben zum Ziel, die Stile der Autoren zu imitieren; sie wurden allerdings nicht auf einemm Bildschirm angezeigt, sondern auf Papierausdrucken ausgegeben.
Autor der deutschen Beschreibung | Author of German description :